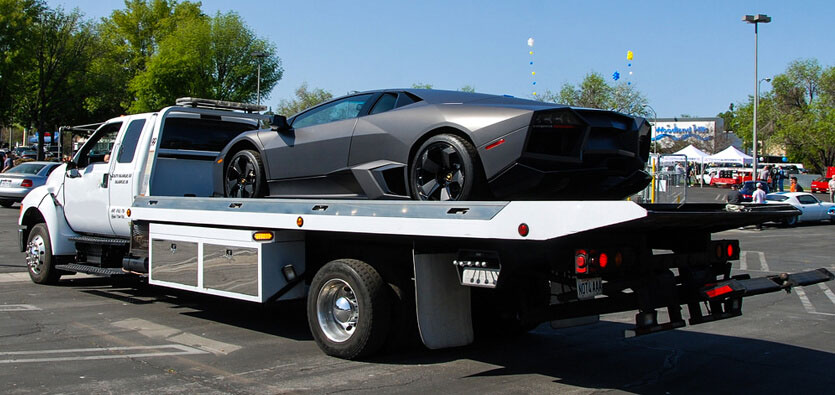 Affordable Flatbed Towing
We provide a tow truck service Mississauga area motorists can rely on, ensuring that we have the right vehicle for any towing needs. When looking for a quality flatbed towing options in the Greater Toronto Area, you can depend on Tow Truck Mississauga to have the speed of service and quality results you're looking for, while maintaining our dedication to affordability.
Whether you need to move a van, car, motorcycle or boat, you have the options you're looking for when placing the call to our experts.
Etobicoke
Scarborough
North York
Toronto
Mississauga​
Oakville
Hamilton
Brampton
Vaughan
Richmond Hill
Markham
Pickering​
Burlington​
Ottawa
When to use a Flatbed Tow Truck
Immobile Vehicles
One of the most common needs for flatbed towing options is to provide movement to vehicles that are stuck. Whether this is in the wake of an accident, a vehicle that has its brakes seized up, or particular vehicle types that can't utilize the standard rear lift towing types.
When making the call to Tow Truck Mississauga for your needs, you can be sure that we have the right vehicle to suit your particular situation. We bring Mississauga towing that can be relied upon to deliver results no matter the particulars of your specific towing needs.
New Purchase
When purchasing a new or used car, there are steps that you need to take in order to be able to drive it home. If those steps are too inconvenient to your current situation, or you plan to allow the car to sit before you take it out on the road, choosing a quality towing service from Tow Truck Mississauga will allow you the means to affordably bring your vehicle to where it needs to be go.
Whatever the vehicle in question or the state of the ride, you can depend on our experts to provide the highest level of care within our services.
Wrecker Transportation
If you've decided to send your vehicle off to the auto wrecker, this could stem from the vehicle no longer being in operational condition. If this is the case for your particular vehicle, having the means to get it to the wrecker is one aspect of the service that needs to be taken into account.
When choosing Tow Truck Mississauga for your auto wrecking needs, you can be sure that a quality flatbed towing will be part and parcel of the services we provide, ensuring that you have all of your needs covered with one simple phone call to the local towing professionals.
Multiple Vehicle Types
We not only provide you with the means to ensure that your cars and trucks have access to the quality flatbed towing but extend our particular service offerings to include a number of other vehicles. From motorcycle towing to boat wreckers, SUVs, Minivans and so much more.
No matter the vehicle you need to be moved, you can count on the experts at Tow Truck Mississauga to have your requirements met with high-quality services and professionalism in every step. Whatever the results you're looking for, we invite you to pick up the phone and reach out to the pros at Tow Truck Mississauga.
⭐️⭐️⭐️⭐️⭐️
"Got a flat tire on my way home at 3am and they showed up very fast, fixed me up and I got home safely."
⭐️⭐️⭐️⭐️⭐️
"I regularly use these guys to transport cars I buy and sell throughout Ontario. Great service, good rates!"
⭐️⭐️⭐️⭐️⭐️
"I was involved in a little mishap on the road and thanks to these guys I felt I was in good hands. They were extremely professional and had amazing customer service. Thank you for giving my baby back."